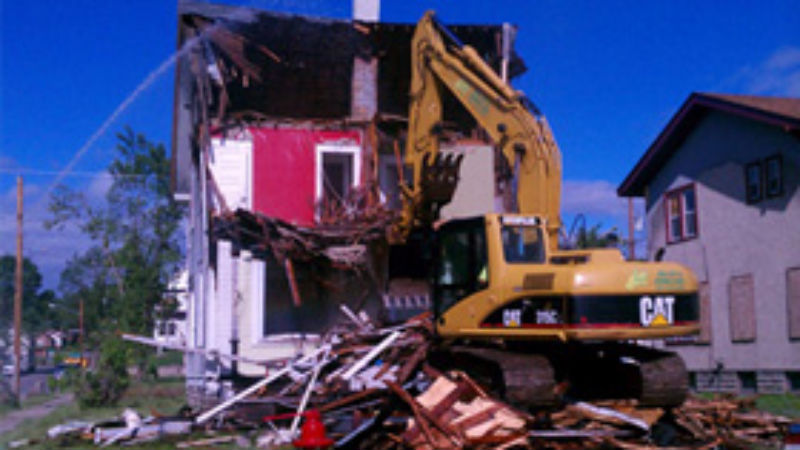 When most people think of demolition, they imagine dramatic explosions and wrecking balls slamming into the sides of skyscrapers. These descriptions are not entirely inaccurate if the building being demolished is a giant office building, but when it comes to Residential Demolition in Minneapolis the reality is much less dramatic.
Typically demolition of buildings under three stories high is performed via manual demolition. In this process a demolition contractor will use heavy equipment such as cranes, bulldozers, and excavators to tear down the structure. The first step taken will be to determine a strategy for undermining the building that actively and safely controls the direction it will fall in. A hydraulic excavator will then be used to weaken and tear down key structural walls and supports, allowing the rest of the building to fall as desired. The debris will then be removed, leaving the property owner with a clean slate on which to work.
Manual demolition of this sort is the quickest and most cost-effective way to remove an unwanted building. Some property owners opt instead for deconstruction, in which more of the building materials can be recycled. However, the amount of time and labor involved makes deconstruction cost prohibitive for most owners. It can cost as much as three times as much as manual demolition.
Prior to tearing down a building, there are often permits that must be obtained, notifications to submit, and other paperwork to fill out. In addition safety measures such as asbestos abatement and the removal of any hazardous or regulated materials on the premises must be performed prior to residential demolition in Minneapolis. In some circumstances fire hoses need to be used to control dust, and either way a large amount of specialized heavy equipment is necessary.
This can all be a little bit overwhelming for those who have no experience in the industry. The decision to tear down a building is in itself often an easy one to make; structural issues, damage, or plain old wear and tear make many older buildings a safety hazard to their owners. Even after this decision has been made, it can be hard to know where to get started. Browse our website to find out more about the demolition services being offered, including same day services and roll off clean ups.