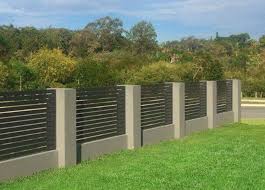 Fences are a priority for many homeowners, and most people go with wood or wrought iron. They tend to focus on the classics or want the white-picket fence that has been depicted everywhere in media. However, those options may not be as good as aluminium fencing in Brisbane.
You want something that is versatile and can be used on hills and flat surfaces without awkward transitioning and gaps. You may also want something customised to fit your décor or style preferences, and wood doesn't offer that much leniency. While wrought iron does and looks beautiful, it creates wide gaps between the posts and can be scaled easily.
While you're probably focused on safety and security of your property and possessions, you must also factor in affordability, accessibility, durability, and maintenance. Other fence styles are highly expensive, especially if you choose the best materials. Aluminium fencing in Brisbane is much cheaper without sacrificing strength. Plus, you don't have to do much to it to keep it looking its best. Wrought iron needs to be frequently painted to prevent rust build-up, and wood must be stained to ensure that it doesn't rot. However, this metal is usually powder coated with your preferred colour, so you don't have to worry.
At CommandeX, they use the slat fence system because it provides the most security around the perimeter and still looks great. They realise that you need control over the aesthetics and want customisation, and you can choose the slat spacing that fits your needs best. Plus, you don't have to deal with the slotted system used by many Australians right now, giving you an innovative option that looks better than ever before, ensuring that your aluminium fencing in Brisbane will provide aesthetic value and keep out unwanted guests.